Looking for the Brake disc in South Africa?  You can simply find them from the local manufacturers and distributors.
We have done our due diligence and listed for you 10 reliable Brake disc manufacturers and suppliers in South Africa. Next time you need to buy the Brake shoe, simply contact them and they will sort you out.
Here is a list of the 10 Brake disc manufacturers and suppliers in South Africa.
1.Alfa Brake Drums & Discs
Tel: +27113652900
Plus code: PCVH+XR Springs, South Africa
Products:
Brake Lining and Disc Pads
Clutch Assemblies: Tractor
Clutch Facings : Buttons and Rivets
Brake Drums and Discs
Founded in 1964 and based in Springs, Gauteng, Alfa is the leading independent local supplier of brake drums and discs for all types of vehicles. Alfa supplies South Africa's road transport industry with a full range of high quality brake drums and discs for trucks, buses and trailers, light commercial and passenger vehicles, plus a selection of hubs for the most popular automotive sector vehicles. In addition, the company offers an impressive range of brake drums, discs and pressure plates for the specialised offroad, earthmoving and industrial vehicle and equipment market.
Manufactured from high-quality castings on state-of-the-art computer-controlled equipment, Alfa brake drums and discs are designed for high performance, maximum safety and ease of fitment. Alfa prides itself on its product quality, wide range, excellent service levels, and on its rapid development of parts required for newly-introduced vehicle models.
2. Powerbrake
Tel: +27128030155
Plus code: 69V6+84 Pretoria, South Africa
Products:
Extra Value Kits
Disk Brake Linings
Forst Products
At Powerbrake we design and manufacture the very best brake upgrade kits on the market for 4×4 vehicles. All manufacturing, quality control and assembly is done entirely in-house. Our civilian X-Line 4×4 big brake kits feature direct technology transfer from our R-Line off-road race brake systems that have been used by works race teams to win multiple FIA Cross Country World Championships as well the infamous Dakar Rally, which is regarded by many to be the most gruelling motorsport event on the planet.
3. Ace Auto Scrapyard
Address: 4 4th Ave, Geduld, Springs, 1559, South Africa
Tel: +27118115855
Plus code: QC4Q+P2 Springs, South Africa
Established in 1988, Ace Auto Scrapyard prides itself on being the most efficient technology driven Automotive Scrapyard in South Africa. We stock over 2 000 vehicles, which are being stripped for spare/second-hand parts, along with over 100 vehicles, which can be bought for rebuilds. We also stock over 10 000 new replacement (Ace Parts) and new original vehicle parts. Our friendly, well-trained team of staff always ensure that our customers get the highest level of service possible. Customer satisfaction is guaranteed and we want customers to leave, feeling like they are part of the Ace Auto family.
4. Superior Friction Pty (Ltd)
Tel: +27815885060
Plus code: 3FQC+73 Cape Town, South Africa
We also started to import our own rotors especially designed for us for performance cars like Nissan GTR and Audi RS4. We will gradually expand the manufacturing of rotors for other high-performance cars.
The manufacturer uses a comprehensive range of high-end production and processing equipment, including CAD/CAM (computer-aided design and manufacturing) systems along with the most advanced computer numeric control (CNC) lathes and milling machines, allowing it to carry out all key production work in-house.
Our mission is to grow the business to employ more family members and in future opening more satellite branches.
5. HEAVY DUTY BRAKE DISTRIBUTORS
Address: 31 Rietfontein Rd, Primrose, Johannesburg, 1401, South Africa
Tel: +27118721280
Plus code: R43X+QJ Johannesburg, South Africa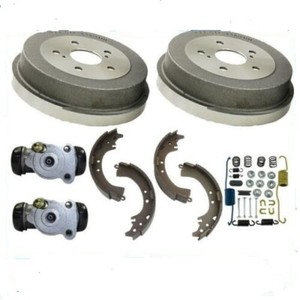 The business operations of Heavy Duty Brake Distributors were established in January 2006 in Germiston by Denis Mc Donald who has over 50 years' experience in the friction industry.
We operate as wholesalers of a wide range of Heavy Duty Brake Linings, Brake Drums, Moulded Roll and Friction Products to the industrial, mining, automotive and brake shop industries.
Our products are asbestos-free and where applicable, comply with SABS performance standards and meet ECE 90 regulations.
We ensure that we supply high quality products at competitive prices and we strive to maintain high levels of service to meet the requirements of our valued customers.
We currently service customers in Gauteng, Free State, Limpopo and Mpumalanga as well as Zambia, Zimbabwe, Swaziland, Botswana, Namibia and Mozambique.
6. Brake Bonding & Clutch SA
Tel: +27116880200
Plus code: Q29H+V5 Johannesburg, South Africa
In the highly competitive auto spares market of South Africa
one name stands out with a reputation for high quality competitively
priced products. Brake Bonding and Clutch SA (Pty) Ltd, (BBC) is an
established company, which has been operating for three decades
and has been engaged in the distribution of the following products:
Disc brake pads, brake shoes, clutch plates, cover assemblies,
bonding segments and clutch facings for all makes of cars and light
commercial vehicles.
7. FEROBRAKE
Address: Kempton Park Cbd, Kempton Park, 1619, South Africa
Tel: +27113948836
Plus code: V6PH+FJ Kempton Park, South Africa
Becoming a household brand takes time, dedication, expertise and a commitment to quality and service- factors that have been at the center of Ferobrake products since the brand was introduced to South Africa in 1965. As a supplier at that time of brake and clutch products and services to the mining, marine, marine, aviation, commercial transport, light passenger car and rail sectors, the company was soon a leader in its field.
8. HazQ Brakes Pretoria
Address: 02 Flowers St, Capital Park, Pretoria, 0028, South Africa
Tel: +27623511907
Plus code:75FF+6P Pretoria, South Africa
We sell QUALITY & AFFORDABLE products and services including mobile disc skimming at your premises and the supply of brake pads, brake discs and sensors.
HazQ Brakes has a mission that not only lives but thrives in the hearts of its employees each and every day. From part-time to full-time employees at the company, regional or corporate level our employees work to be the best in the business.
One common thread running through the hearts of everyone within the company remains the same – treat customers and fellow employees with respect and fairness. Care for those in need, always do what is right, work hard, be responsible.
The employees of HazQ Brakes represent our philosophy and its brand by remaining knowledgeable, friendly and honest. By offering the highest level of customer service, more product choices and the lowest prices, they have earned the right to be considered trusted experts.
9. AutoZone Wynberg
Address: 584 Louis Botha Service Ave, Gresswold, Johannesburg, 2090, South Africa
Tel: +27118874115
Plus code: V3CP+59 Johannesburg, South Africa
AutoZone is a leading distributor of auto parts, spares and car accessories in Southern Africa. Whether you need essential car parts to fix your vehicle or need accessories to customise your car, you'll find it all here. As the largest privately owned auto-parts dealer and retailer in South Africa we provide you with the right parts at the right price.
10. Xpress Brake